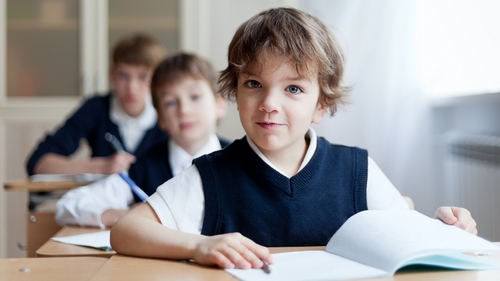 School uniform implies proper dignity as well as the accurate discipline of the students. There are several such purposes to use a school uniform. Not only the students of different institutions are distinguished from one another, but also the proper exposure of an institution's ideologies is carried out through its colors and logos.
There are different types of school uniforms which are to be used by the students. Generally, different uniforms are worn at different days as well as different seasons. One of the most extensively worn uniforms at the school level is the school jumpers.
You may get easily confused by the diversity of such jumpers because jumpers are usually of two types. The knitted ones which are worn at winter season and often represent the modern-day use of sweaters, and the ones which are worn by girls over blouses, shirts or even sweaters.
To buy proper school jumpers according to your need, you need to distinguish both the types and have a decent knowledge of their respective specifications. Let us take a look at different kinds of uniform jumpers differently based on their fabrics, prices, purposes, and other factors.
Fabrics Used
A wide array of fabrics is used for the production of different school jumpers where the comfort of the students is kept in mind. Following is a list of few jumpers and dresses with the details of their fabrics used:
Long Sleeve Skivvy – These long sleeves are produced by the use of both polyester and cotton.
Chest Panel Pullover – Usually made in different combinations with wool, cotton yarn, polyester, and nylon.
Stripe Panel Rugby Knit Jumper – These jumpers are purely produced by the use of poly-cotton blend.
Girls' V-Neck Jumper – These extensively used jumpers for girls are usually made with pure 100% polyester fabric.
Pleated Hem Jumper – A combination of cotton (60%) and polyester (40%) is applied for the production of such girls' jumper uniforms.
Apart from these, many types of jumper uniforms are made with the use of several fabrics though this usage of fabrics depends upon the type of weather, climate, and seasonal conditions.
Purpose of Different Jumpers
The purpose of different uniform jumpers may vary with different conditions and different codes of conduct. Some jumpers are manufactured for the sake of the dress code of an institution, while some jumpers are made to protect the students from extreme cold weathers. Most jumpers for students are manufactured for both the purposes though. Now the question arises on what jumper you should buy? It should depend upon your surrounding climatic conditions and the circumstances you come across with your school uniform.
What is the Price Range of School Jumpers?
Different sweaters and jumpers have different price ranges, which depend upon the quality of fabrics used along with their durability. Though the color availability does not play a major role in the price of jumpers, still there are different values for various jumpers with different specifications. You should buy a jumper which suits your pocket as well as your requirements.
The price varies from one to another in categories like Men's V-Neck Sweater, Nylon Full Sleeve Jumper, Girls' V-Neck Jumper and Girls' Uniform Pleated Jumper.
The right choice to buy a proper school jumper totally depends upon you and your conditions. Just make sure that the type of jumper you buy, perfectly suits your comfort as well as your pocket. There are a number of stores and websites as well from where you can buy excellent jumpers at a very reasonable price. These are nothing but a type of one-time investment, buy a jumper of good quality and relish and enjoy them for a long period of time through your school days.